Today we are sharing some printable templates of the two-month October November 2020 calendar. You can download the template directly from this web-page. These templates are available in two formats – one is PNG and the other is JPG. You can download the template and use it anywhere. If you want to make a plan for these two months, it will help you a lot. You will get enough space on the template where you can add all the important points. In addition, you will find a separate notes section on the template to note the birthday, anniversary dates of loved ones. In addition, this article will give you more information about these two months such as Birthstone, birth flower, festivals, holidays and much more.
October November 2020 Calendar
Firstly, print the following template of two-month calendar October November 2020. You can only get two formats of the calendar template. If you want to download other formats such as Excel, PDF, Word then please contact us.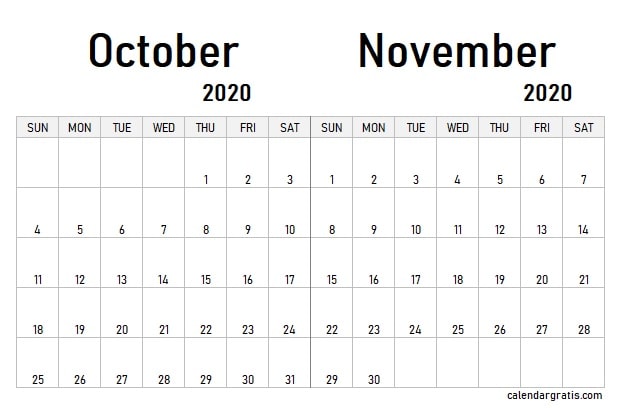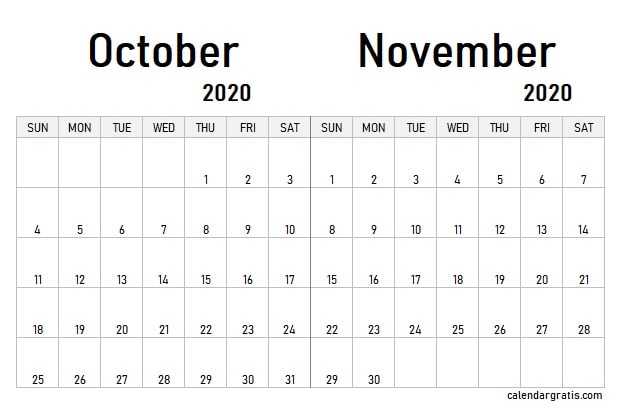 Every month has a significant birth flower associated with it similarly like Birthstones, and each one of it has its own different meaning which has a very special symbolic importance.
Month of October –
October is the tenth month which comes in a year, which comes besides September and November as traced in the Gregorian calendar. It has all total thirty-one days in it. The word October is formed of Latin word Octo which means eight, and it was long ago known as the eight-month of the old calendar. During October it is spring season seen in the Southern Hemisphere whereas autumn season in the Northern Hemisphere. October is the month which is recorded to start one the same day of the week as that in the case of May month and it finishes on the same day of the week as in July.
October Birth flower
The birth flower associated with October month is "marigold" which is golden with a yellowish tinge. It blooms with a spicy set which is favourite for most of the gardeners around the world. It is even called as the hardest flower of the autumn season. Marigold represents the determination to succeed and the dedication towards the goal. October born people are usually passionate and goal-oriented just like their birth flower. There are many fascinating features about a marigold flower which has many symbolic meanings related to the person who is born in the month of October.
2020 October November Calendar with Notes
Now you can note each and important thing on paper. Yes, you have to print any template from the page and customize it according to your requirement. There are many special dates that need to be remembered by a person and usually, we forget them due to busy schedules. It can be the date of someone's birthday, appointments with a doctor or any other family function. Nobody wants to forget the birthday of their loved ones and sometimes we get busy with other important tasks. To remember all the important dates, we should note them in one place. These templates serve as a reminder to the person managing many things in a short period of time.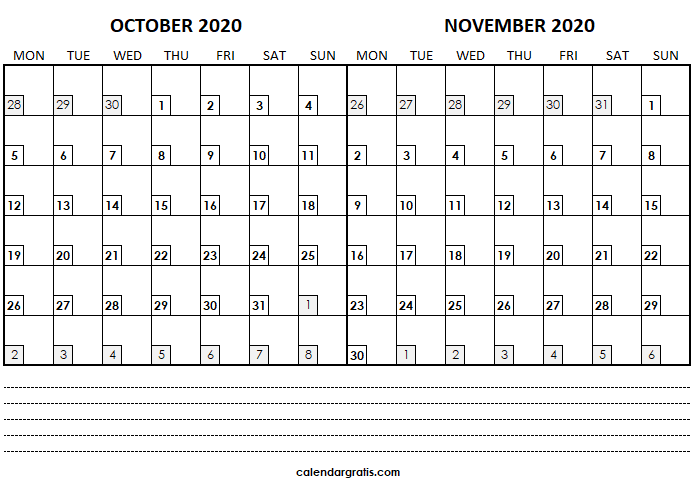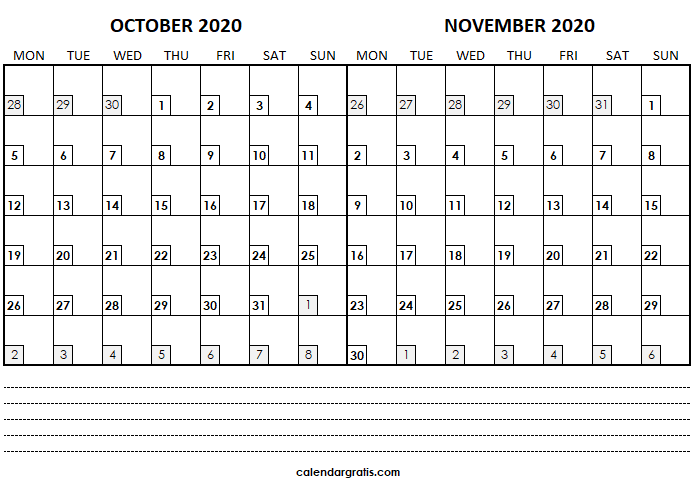 If you want to use this template, download or print the template from the page and customize it.
Month of November – 
November is the month which comes in between October and December. It is the eleventh month of the year traced in the Gregorian calendar and it constitutes 30 days in total. November was said to be the ninth month in the old Roman calendar from where its name came out November meaning 9th. The name of November was kept the same in spite of the decision of January and February at the beginning of the year in the new formed Gregorian calendar giving its position to September as the ninth month and itself being the eleventh month.
November begins on the same day of the week as traced in the month of February and also in March. It finishes on the same day of the week in the month of May. Similar to October, November is seen to bring Spring in Southern hemisphere and autumn in the Northern hemisphere.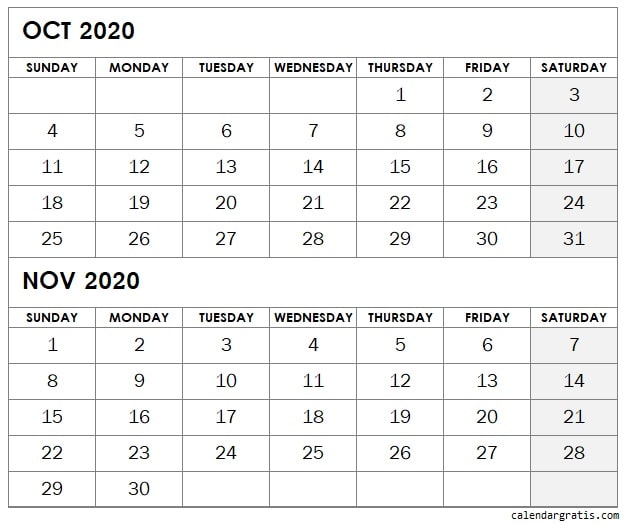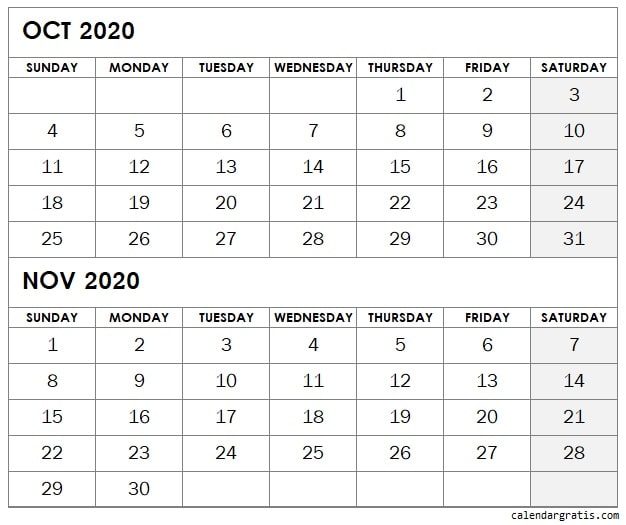 November Birth flower
The birth flower which is associated with November month is chrysanthemum flower. Most of the people around the world celebrate their birthdays by using chrysanthemums as a special feature on their special day. Chrysanthemums are old flowers which are known to be cultivated since 15 century BC in China. This flower has a long history kept beneath its name. In today's scenario, chrysanthemum is known as cut flowers which have different varieties and are versatile with different uses.
Chrysanthemums come in different colours with each having a different meaning of its own. The symbolic meaning of chrysanthemum flower is to wish joy and good luck and friendship to anyone it is given too. The flower is special around the world but it in Japan it is widely used as a flower of happiness during certain festivals and special day is also kept in honour of this flower called as the chrysanthemum day which is annually celebrated in the month of September on 9th September.
Oct Nov Calendar 2020 Monday Start
Print the following template with both months starting on Monday. This template can be used by those who want to use their time properly. They can manage their things and plan for the whole month. Download now this two month printable calendar October November 2020.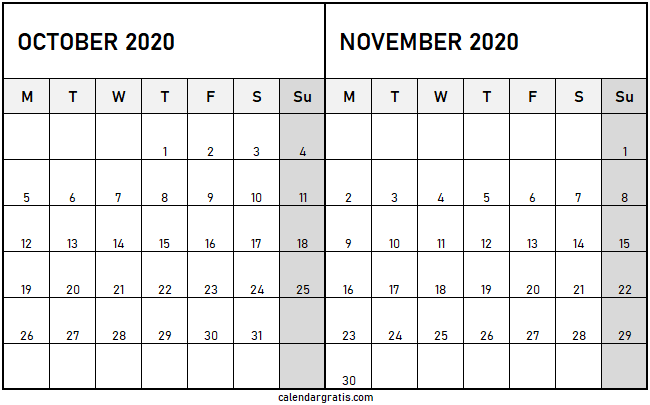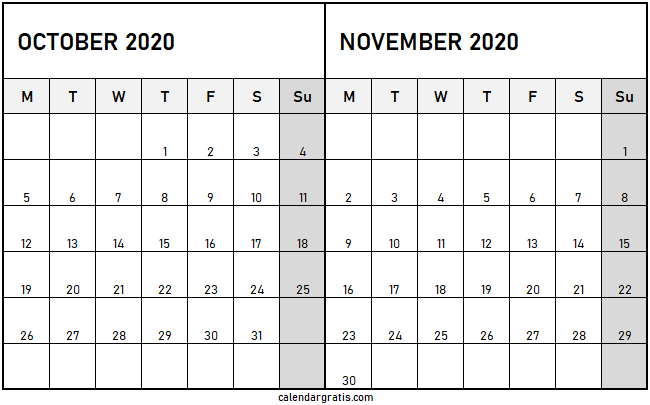 Special Day & Holidays
| | | |
| --- | --- | --- |
| DATE | Special Days | COUNTRY |
| October 12 | Thanksgiving Day | Canada |
| October 12 | Columbus Day | USA |
| October 26 | Labour Day | New Zealand |
| October 31 | Halloween | USA |
| | | |
| --- | --- | --- |
| Date | Special Days | Country |
| November 11 | Veterans Day | United State |
| November 11 | Remembrance Day | Canada |
| November 26 | Thanksgiving Day | United State |
In this article, we have collected some interesting information about both the months of October and November. Please comment below if you are looking for something else. Our team is always ready to serve you best.
We hope you will appreciate our work with the people around you. It would be great if you would share this information on your social media to spread it quickly. Thank you!
Related –