There are many benefits of using a printable medication schedule template and here we will discuss it one by one. Before starting the discussion, we would like to inform you that here you will find varieties of medicine log templates. All templates are ready to download and print. This printable medication schedule template will help you track your medication, laboratory tests, dosages, routine checkups, and annual checkups. In this way, you can take care of yourself and your family against the disease and fight the disease.
Today we are providing these schedule templates to track your daily, weekly, and monthly medication reports. Download any template from the given collection and start using it today.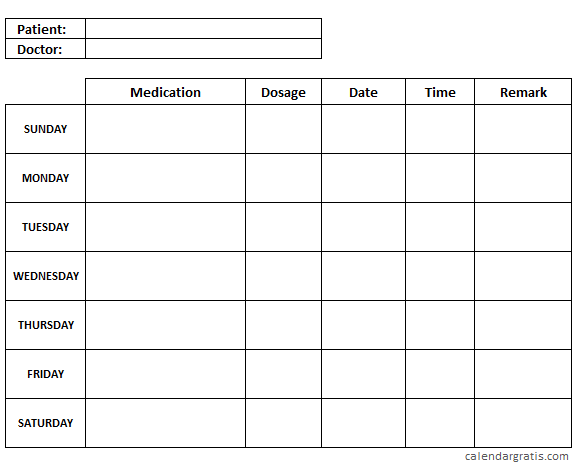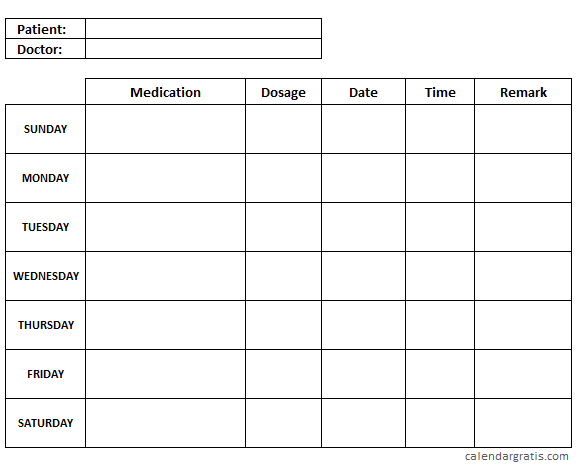 Due to the busy lifestyle, we do not remember to do all the work in a day. Most of us have a personal to-do list that helps a person to accomplish such important tasks daily. Even sometimes we forget the essential things related to our health and unfortunately, we do not manage things on time. That is why today we have brought a solution to your problem.
As doctors suggest, a patient should take regular doses at the right time without any absence in the medical course. Using the medication log template will ensure the patient to conduct their treatment correctly. We can also say that it is a reminder to the person to take the medicine at the prescribed time. It also helps the person reduce the chances of missing his medication due to a busy lifestyle.
Daily Medication Schedule Template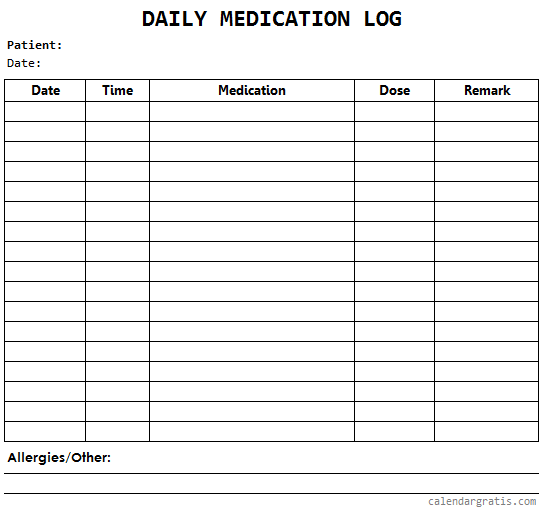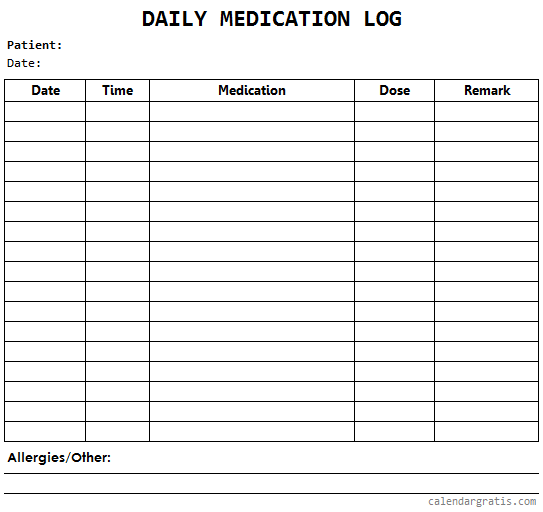 In the template, you can easily add important information about your routine checkups with doctors. It helps the patient in many ways and anyone can create a custom medicine calendar as per their requirement. The above template can be used to produce a daily medication report in which you can track the daily dose of medicines. Besides, you can create a daily exercise chart. The daily medication schedule template is used at the hospital and home. This is the simplest method of keeping a patient's medical report regularly.
Weekly Medication Tracker Chart
Plan your entire week using this template and you can remember all the safety measures that are good for your health. Also, if you are the only person looking after yourself alone, then it would be the best tool for you to track your report every week. Now manage your entire week and track reports of your daily intake of calcium, vitamins, herbs, pills, and other medicines.
Printable Weekly Planner Template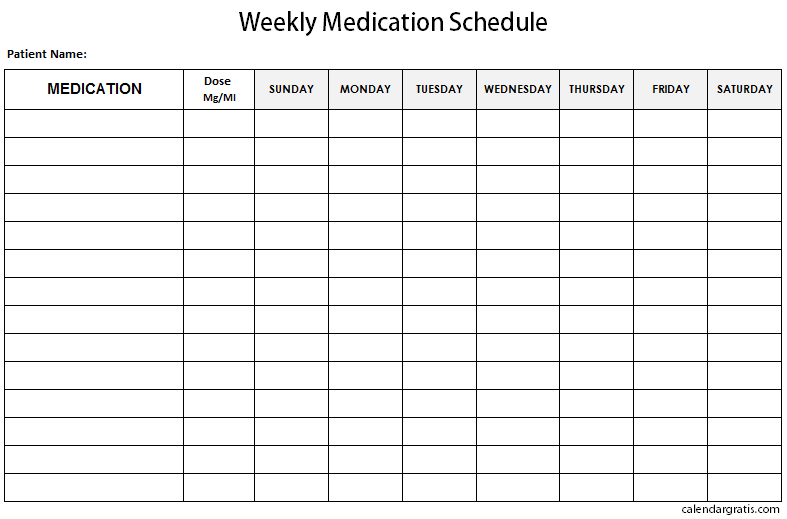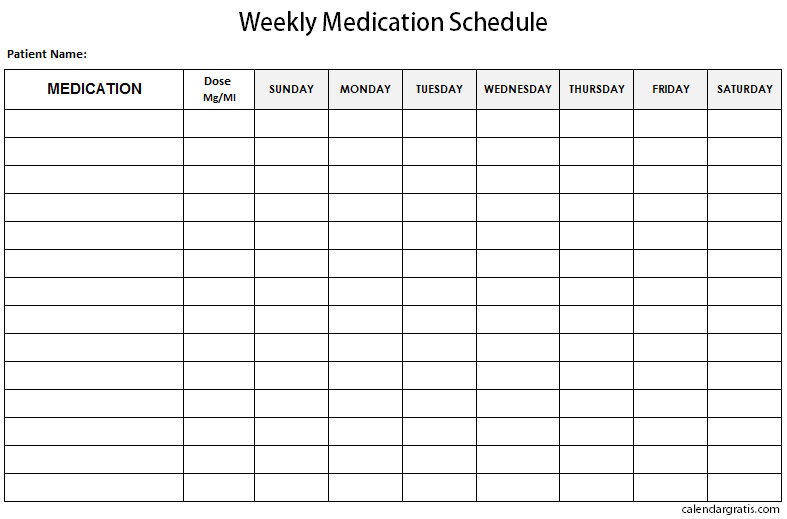 Monthly Medication Log Sheet
All the templates from this article are very helpful for both patient and healthcare providers such as doctors, nurses, etc. In some of the templates, you can also create an hourly report of your medication. Also, we know that there is no way to remember some crucial information like upcoming appointments with the doctor, daily medication doses, etc. It is a bit difficult to remember the date and time when you are stuck in some important work. At that time, all these templates will help you to remind your next important step to improve your medical condition. With this medication calendar, no one can forget to take their medicine dosages regularly.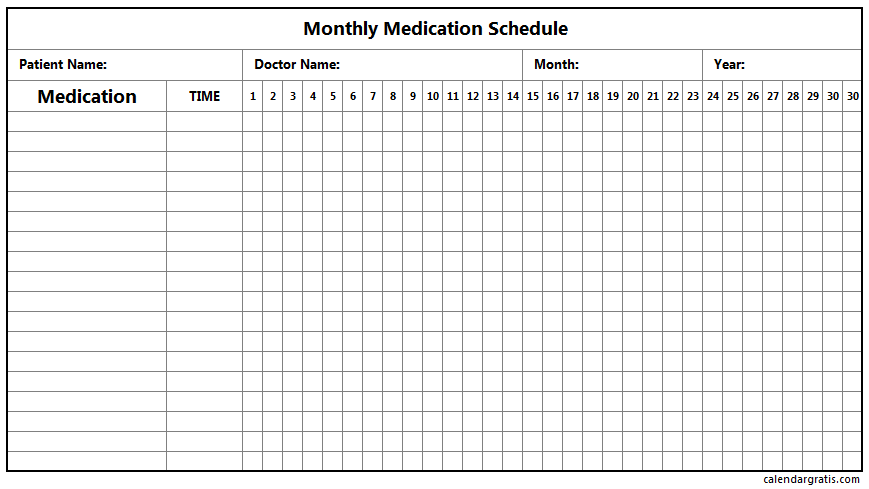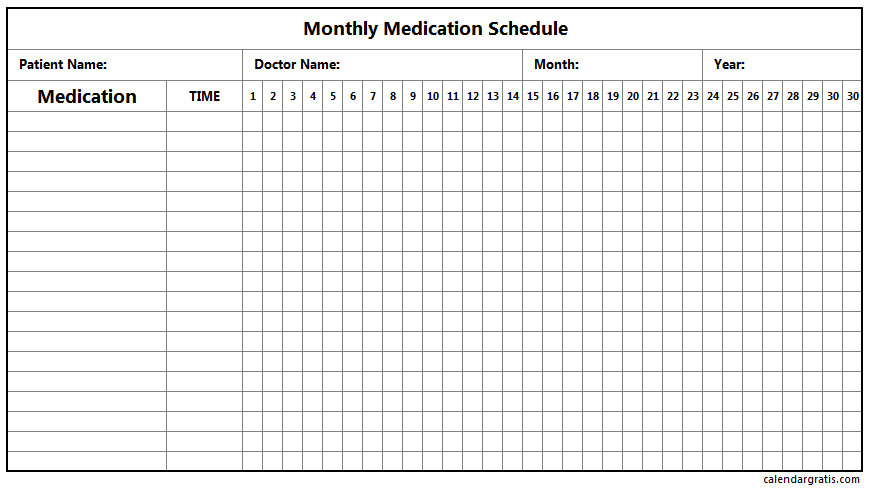 Printable Monthly Planner Template
Also, if you are planning to go out for a holiday, then you should plan a medicine intake. This will help you a lot during your long journey because it is necessary to take care of your health more than anything. That way, you can enjoy your journey with your family or with friends during your busy days without the stress of missing out on medicines. We would like to inform you that you can also add information to the template along with the details of your medicine. Information can be your doctor's contact number which is very helpful in case of emergency and some other details like monthly details, year, your blood group, body weight, etc. can be added.
Monthly Medication Log Sheet
Another benefit of keeping your medication log is that you can share your monthly medical condition at the time of appointment with your doctor. This will make the process much easier for your doctor to analyze your medical report. Also, doctors will be able to give you the best treatment to treat your health problem.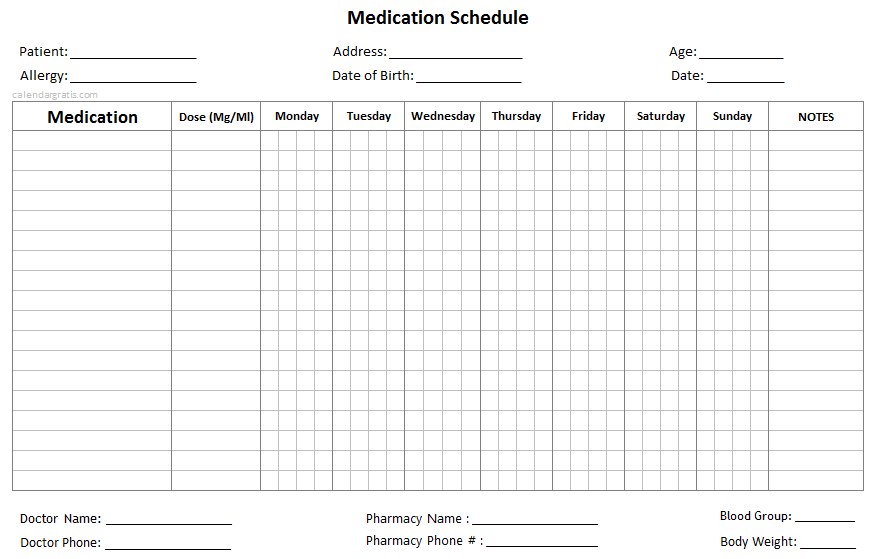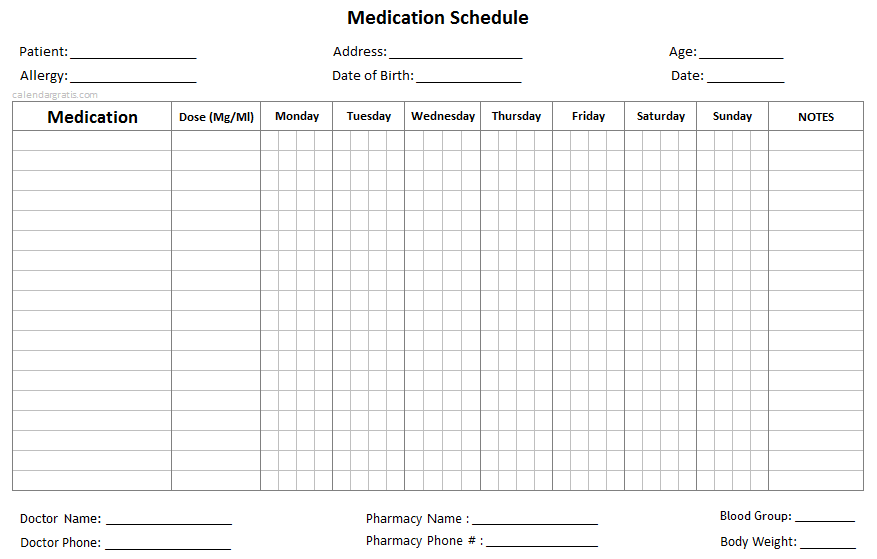 Download the template today and use it to make your daily lifestyle comfortable. Also, share this information and templates with your friends so that it will help them to create a complete health chart. They will appreciate our content and thank you for sharing important information. All templates are easy to understand and you can easily customize the schedule to suit your needs.
The main purpose of this medication schedule template is to help you take care of your health in this busy lifestyle. So add important data about your medications, appointments, doctor's contact details, and other medical reports to the template. Finally, you can remove the printable of your medicine log and stick it in the wall of your bedroom or workplace so that you can strictly adhere to it throughout the day.
We are also providing a medication schedule template in Spanish: Horario de medicamentos