This post will help you download the free printable half yearly calendar 2020. Here we are sharing some unique templates of half yearly 2020 calendar. All calendar designs are very unique and simple. You can print any template from the article and use it for many purposes.
About half of the year is almost complete and we are providing a one-page calendar template for the remaining six months. The first half of the year starts from January while June is the last month of the calendar of the first half-year. The second half starts in July and ends in December. Here you will get a six-month calendar from July to December 2020.
Half Yearly Calendar 2020 Template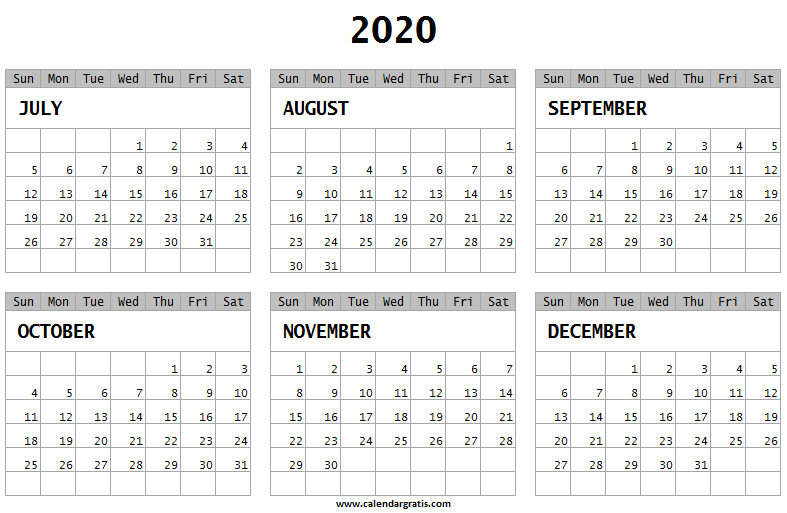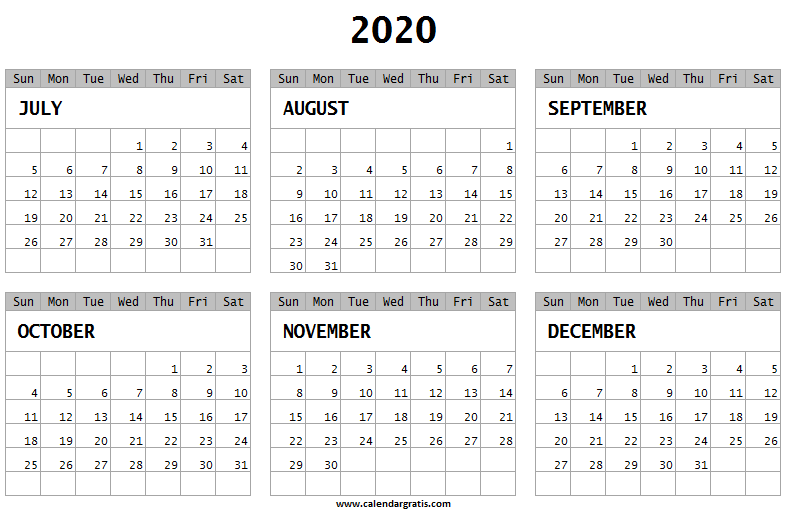 As we all know that calendar is a very necessary part of our daily life. It helps the person in many ways to manage various work activities. Some people use the calendar to create a monthly planner while others use it to perform routine tasks. If you use these calendars to improve your business then it will help you a lot. Many business owners follow certain types of plans to get success in their business. With our planner templates, you can create a good plan for your work (job). So use our calendar template and then you will get the best results from your work.
To make a correct plan for each month you should download the template from this article. You can use any template in this article to make a good planner. Likewise, here on this website, we have more templates that will help you create a schedule. You should also check our weekly schedule and monthly planner templates. Besides, you have the opportunity to download our to-do list template to manage your daily tasks.
Six Month Calendar July to December 2020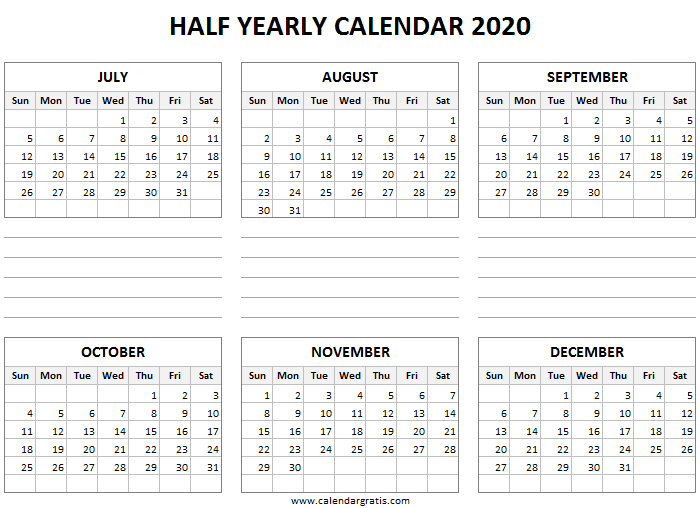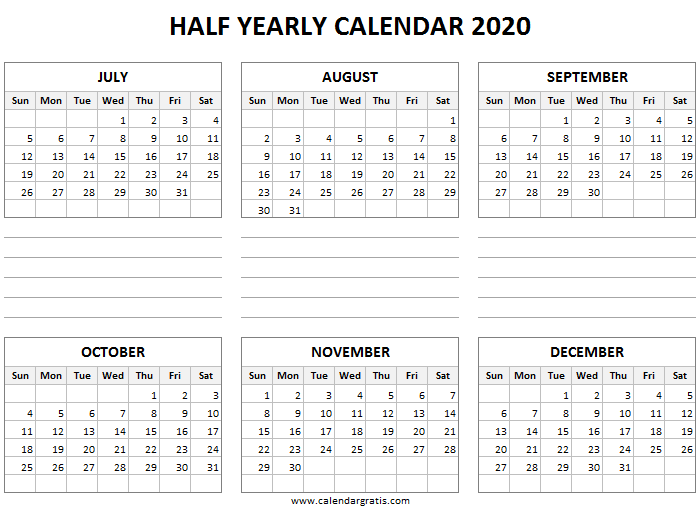 Print the template of the July – December 2020 calendar (half yearly calendar 2020) for free. We hope you like our templates and share them with your people. In the template, there is a separate section for managing your tasks. You can add all the important points in the calendar which will help you to remember things easily. Well, these are blank templates and you will also find enough space in the template where you can add information related to local events and festivals.
You no longer need to download separate monthly calendars as you can easily print six months at once on one page. Our calendars are designed to provide superior quality to our users. The design of our calendar is very simple. One can easily understand the format of our template. Also, it can be downloaded with a few clicks. We want to inform you that all these templates are compatible with your device such as desktop, mobile, and tablet.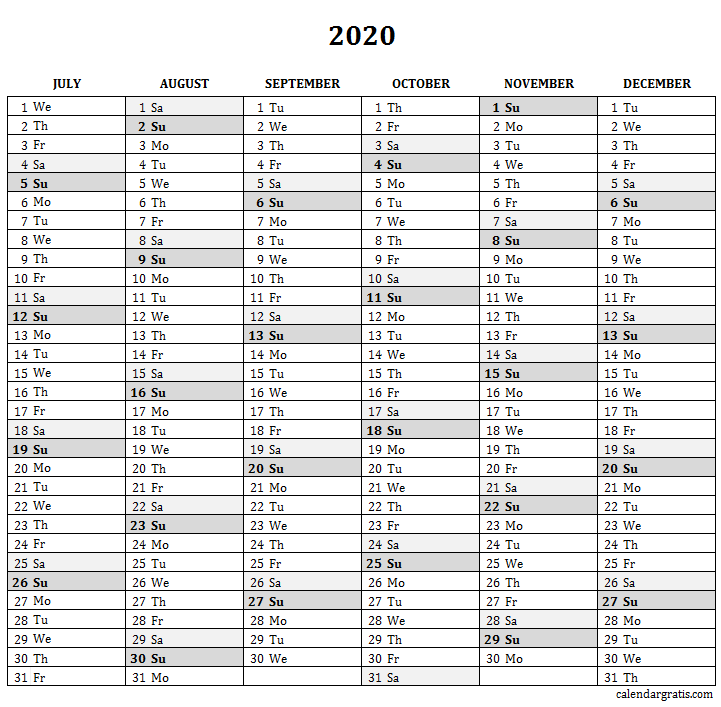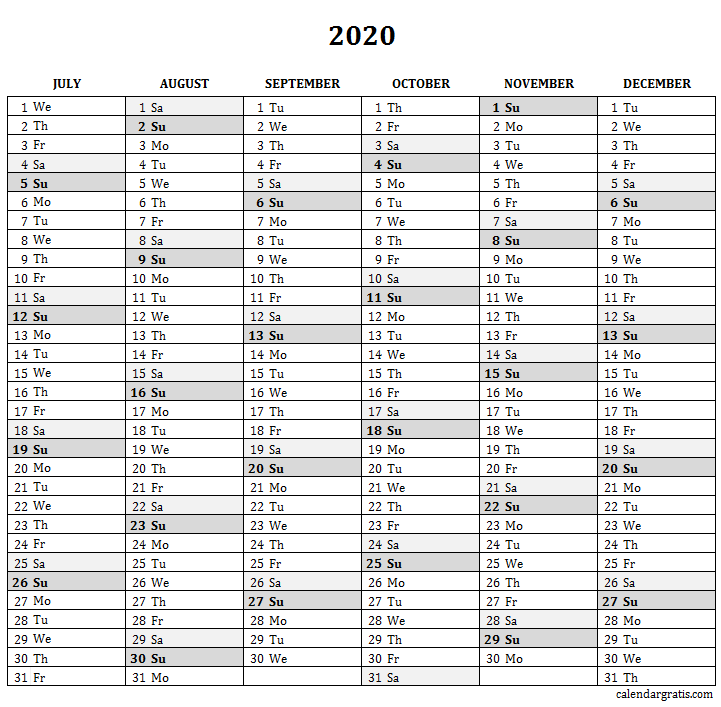 Create your custom calendar using our blank monthly calendar templates. This half yearly calendar 2020 templates will be very useful for your office and household tasks. We need genuine feedback from you, please comment below and share your valuable feedback. Also, you can contact us via mail.
Cute Monthly Calendar 2020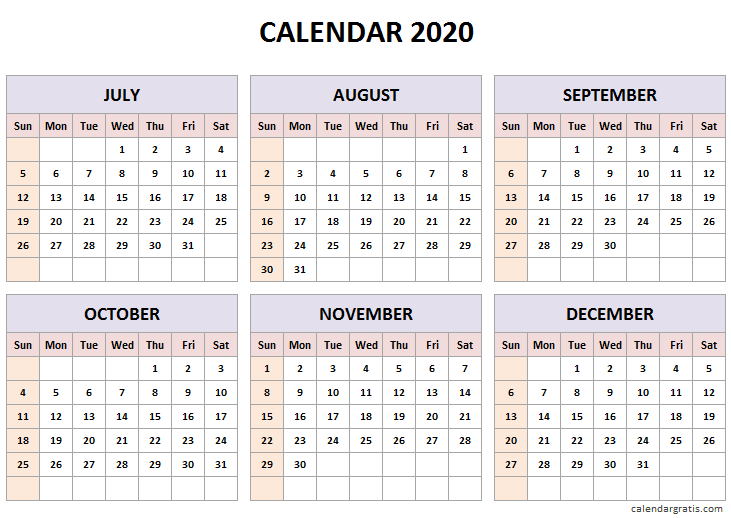 School and college going students can also take help of these templates. They can create their exams and class schedules to prepare academics. This will give you the best direction to achieve success in your studies. We have seen that it has many uses for different age groups in our society. You can also take advantage of our templates by using them in your work. You can appreciate our work by sharing all these templates on social media. It can also help your colleagues. Use our sharing button to spread information with your friends and family.