Printable February 2020 calendar template for Educational institutes, schools and offices. Find different varieties of templates for February month and stay connected with us for more unique calendar formats.
Normally there are 28 days in the month of February but this year (2020) this month will have 29 days. This is always repeated after a time period of 4 years and it is known as the leap year and an extra day is added to the month of February. It means that a year has 366 days instead of 365 days. We have already shared the leap year template in this blog, so download and print these leap year 2020 calendar for free.
Note: All these images are made by our team and we own all copyrights in these calendar templates. If someone wants to use this calendar images on their blog then you have to mention the source of the image.
Printable February 2020 Calendar Template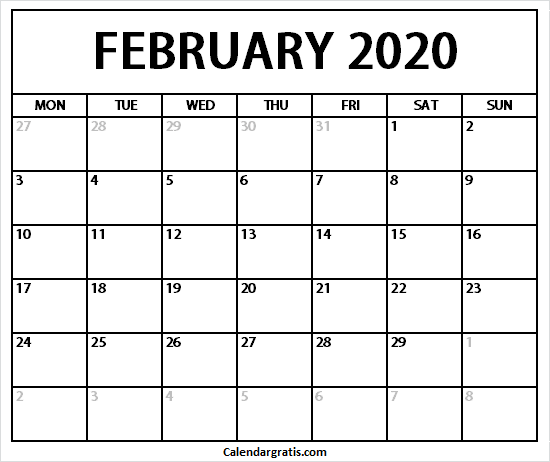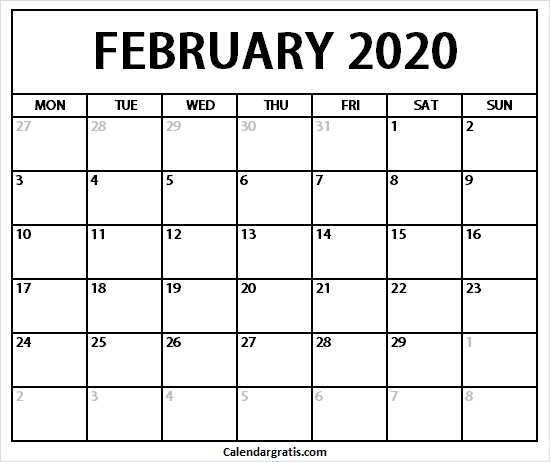 If you find this blog useful for your work, please bookmark the link of home-page in your browser. In this way you will be able to get all the updates about this blog and you will never miss the useful content of this web-portal.
About month of February
February famous as a love month is the second month of the year with least days 28 in common years whereas 29 days in leap year in the Julian and Gregorian Calendars. February is the shortest month of the year. February is the only month to have less than 30 days.
February was named after the Latin term februum, meaning purification (this month is a time for purification). February used to be the last month of the year but in about 450 BC it became the second month. Leap year occurs quadrennially (every fourth year). Mainly, it is the only month which can pass without a single full moon.
Seasons are considered equivalent to August in the opposite hemisphere. In Catholic tradition, February is the Month of the Purification of the Blessed Virgin Mary.
February is the biggest excuse to reach out your friends and loved ones. Let Valentine's Day ignite the spark of love and friendship this month. February is a month of love filled with rose, chocolate, hug, teddy and so many more days. Let your feelings out this month.
In US, February has a week for engineers too. Third week of February is celebrated as National Engineers' week.
Famous Personalities born in February Month:
February 05: Christiano Ronaldo (Footballer)
February 06: Ronald Reagan (U.S. President); Anne (Queen of Britain)
February 11: Elizabeth of York (Queen consort of England)
February 12: Abraham Lincoln (American President)
February 20: Rihanna (Singer)
February 21: Sophie Turner (Actor)
February 22: George Washington (First U.S. President)
February 24: Steve Jobs (Founder of Apple)
Previous month – January 2020
February Calendar 2020 – Leap Month
Also get some new calendar of February 2020 through any device like laptop, mobile phone, tablet, iPhone, iPad, desktop, etc. These calendar images are convenient with all types of gadgets, so you don't have to worry about it. Feel free to download as well as save this calendar and it will not take up much space in your device. However, it is not very large in size but it only consumes very less internet data. Finally, check and print you favorite printable February 2020 calendar template –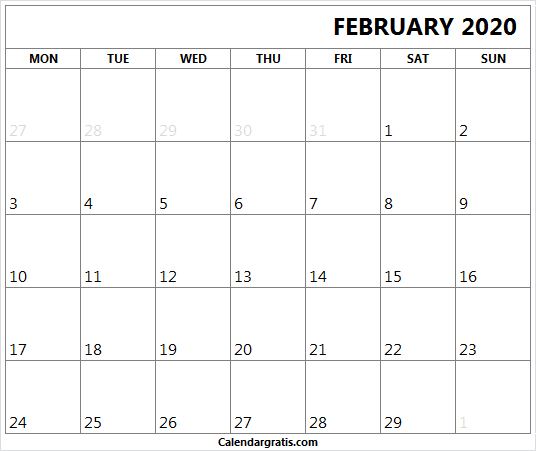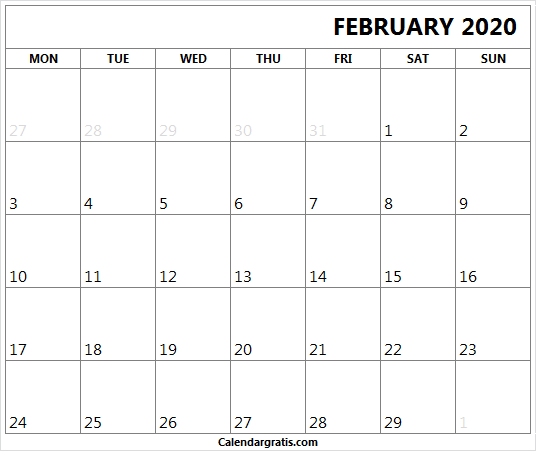 ---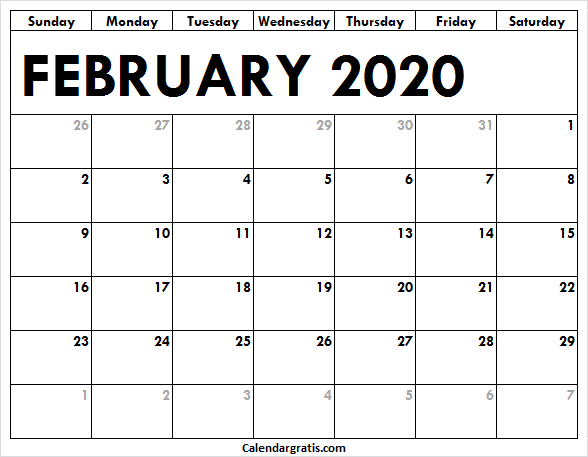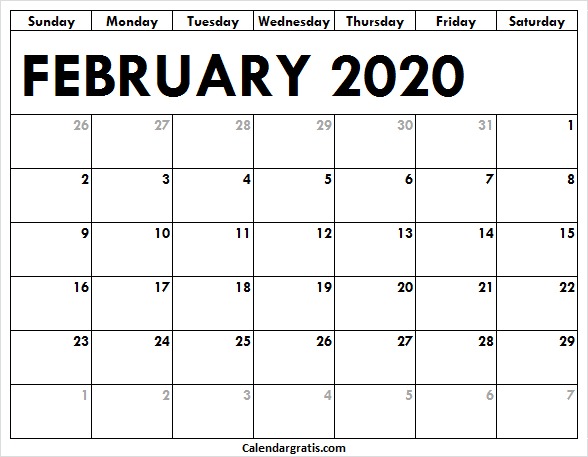 Little about February birth symbols:
February Babies gemstone is Amethyst (violet variety of quartz) which signifies spiritual wisdom, piety and sincerity.
Flower is Violet and the common primrose.
Zodiacs are Aquarius (until 20 Feb) and Pisces (onward 19 Feb).
Official Holidays 2020
| | | |
| --- | --- | --- |
| Date | Public Holiday | Country |
| Feb 06 | Waitangi Day | New Zealand |
| Feb 17 | Presidents' Day | United States |
| Feb 21 | Maha Shivaratri | India |
Month-Lasting Observances:
National cancer prevention month.
Black history month.
American heart month.
National children dental health month.
Friendship month.
Library lover's month.
National bird-feeding month
Special Observances throughout the Month:
Feb 01: National Freedom Day
Feb 02: Groundhog Day
Feb 04: USO Day
Feb 05: National weatherman's day
Feb 06: Take your child to the library day
Feb 07: National Wear Red Day (Occurs on the first Friday of the month date may vary)
Feb 08: Kite Flying day
Feb 09: National stop bullying day
Feb 10: World Marriage Day
Feb 11: Make a friend day
Feb 12: Lincoln's Birthday; Darwin Day
Feb 13: World Radio Day
Feb 14: Valentine's Day
Feb 15: Presidents day
Feb 16: Do grouch a favor day
Feb 17: Random act of kindness day
Feb 19: Chocolate mint day
Feb 20: National love your pets' day
Feb 21: international Mother language day
Feb 22: Washington's Birthday
Feb 26: Tell a fairy tale day
Feb 27: Spay  ay USA
Feb 28: Rare disease day
Feb 29: Leap Day (once every four years)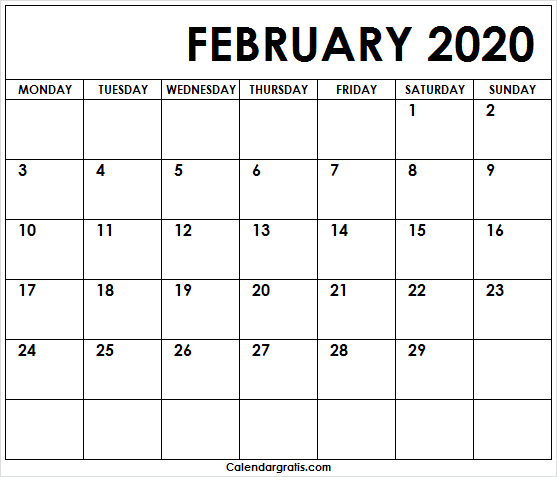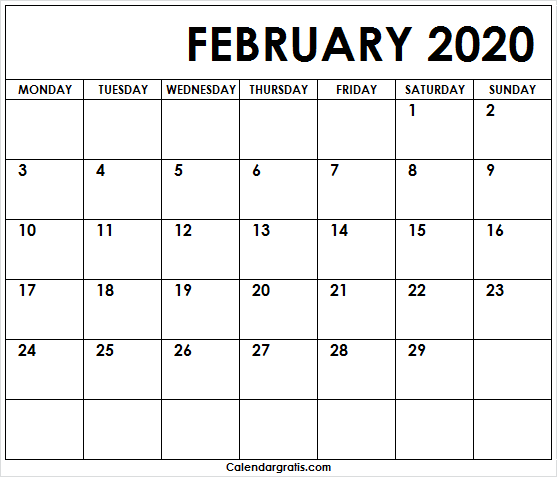 Festival Days in February:
February 03 – 11: Kala Ghoda Arts Festival – It is the time for the artists to shine. This festival is hosted in South Mumbai, India every year to showcase the skills of an artist painting the area around with the creative brush and thinking. People immerse themselves out in the creativity.
February 11 – 14: Goa Carnival – How can one miss the party state of India. A long-standing Portuguese tradition of local fest is honored in this carnival. People tend to travel here and be a part of this carnival from all over the world.
February 16 – 17: Losar Festival – This festival is celebrated in Sikkim, India. Tibetans in India tends to celebrate the Buddhist New Year in the form of Losar.
February 17 – 19: Desert festival – This quirky Indian festival showcases the cultural wonders of Rajasthan (Jaisalmer). Festival of camel racing, turban tying and longest moustache.
February 5: Chinese New Year – Enlighten the China with fireworks and celebrations. It's a long holiday.
February 16: Carnival of Venice – One of the most beautiful festival celebrated to hide the differences among all classes by wearing the masks and mixed clothing.
February 19: Pingxi Festival – Celebrated in Taiwan it is the festival of lanterns. People write their wishes on fire lanterns and then release it high together in the sky.
Please contact us for any query and suggestions. Goodbye, Have a good day …!