This post will help you download the free printable December 2020 calendar template. These templates are available in PNG format and you will find these blank templates to print online. Here in this post, a total of five pictures are available which have different characteristics. In this collection of printable December 2020 calendar, some of the calendar templates begin on Monday and end with Sunday. While other templates are starting and ending with Sunday and Saturday respectively.
Furthermore, in this calendar-post, we have also shared a special type of template. In this template, there are only 5 days from Monday to Friday and there is no Saturday and Sunday in the calendar. Such calendars are used to check the schedule of only five workdays in government offices. Similarly many private businesses, employers require this type of special calendar templates to organize work and official activities. If you need any template for your official as well as personal use, feel free to download it from here.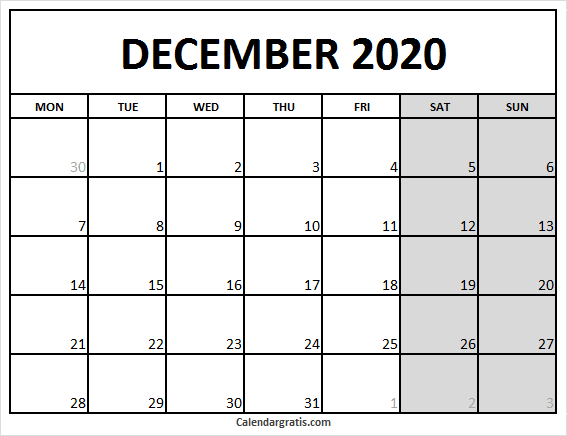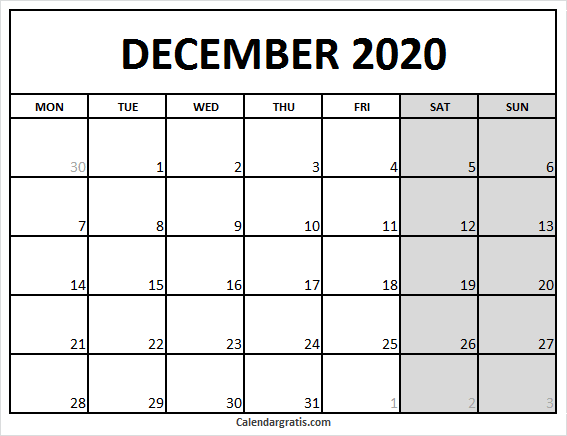 These printable templates are very simple and unique in design and can be easily printed on plain paper. Also, it does not use much ink to print and it can save you money. Usually, we provide both image formats – PNG and JPG and today here we are providing only one format of calendar i.e. PNG. If you want to get the JPG or PDF file of the calendar then you have to inform us via mail. Visit the Contact Us page and notify us if you need other image formats.
| | |
| --- | --- |
| Month | December |
| Year | 2020 |
| No. of Days | 31 |
| Format | PNG & PDF |
Printable December 2020 Calendar
Nowadays, users mostly demand the customized calendar and for that reason, we have also uploaded some blank calendar templates. You should check these customized templates where you can add anything as per your choice. It's a very easy process, firstly download the template in your device and then add the important information like month, year, dates and days. After that, choose your favorite font style and positioning of the text. Also, add some other important things such as Birthday, Anniversary, Festivals, Events, etc. In this way, you can create your calendar template in just a few clicks.
---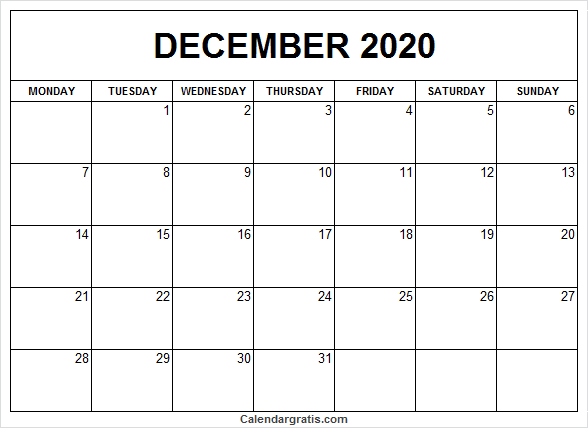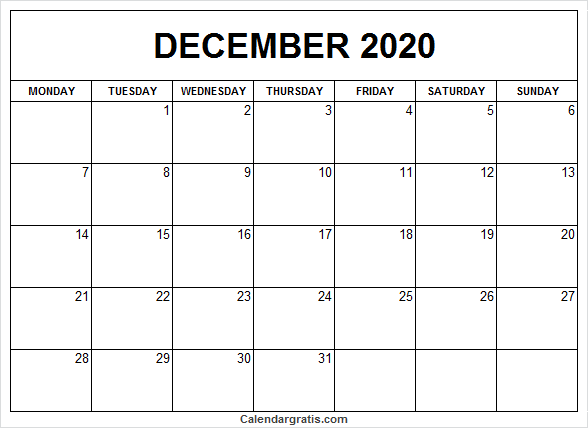 ---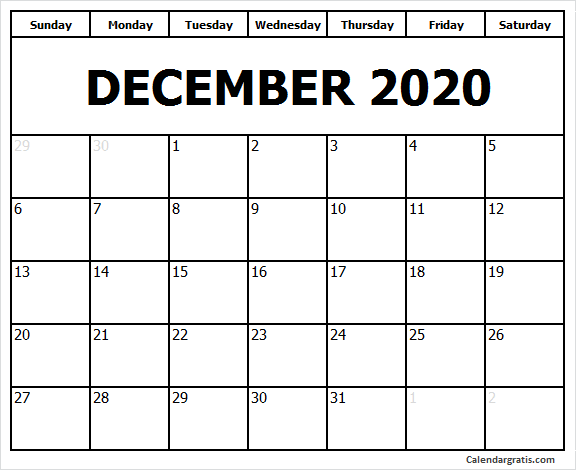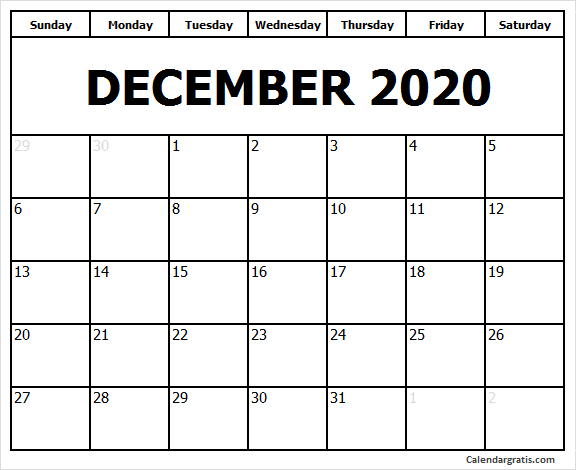 ---
December is the last and the most awaited month of the year. It falls after November and ranks twelfth on the annual calendar. This month is very popular among the people as many big festivals are celebrated this month.
Some famous festivals are Christmas Day, Christmas Eve and New Year's Eve in the month of December. These popular days are celebrated all over the world. In the last week of the month, everyone enjoys these days full of enthusiasm. Also, many dance parties are organized to celebrate the coming New Year. On the other hand, many people like to go to new places around the world. They mostly think that they should start their new year in a new place. There are many options to celebrate the new phase of life. And people have different options to enjoy their life. It is true that this is the best time to start a happy life and remove bad moments from life.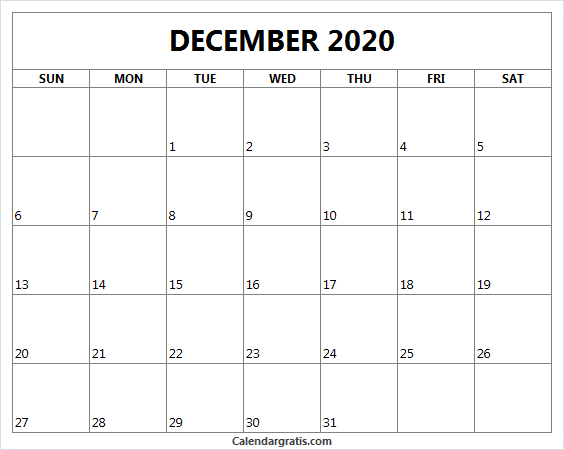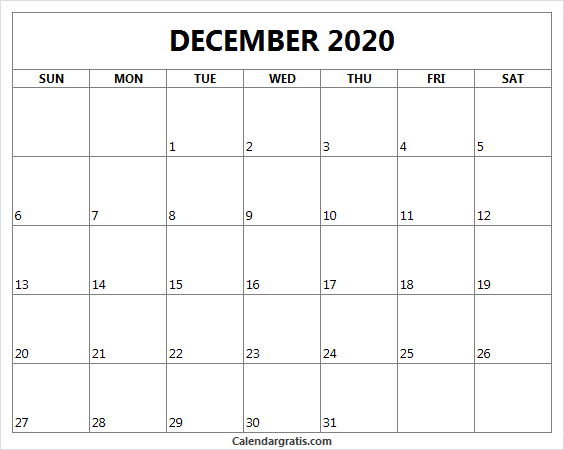 Print the template we uploaded. Share these images with your followers and friends through some social networking websites. You can share it through Facebook, Twitter, Tumblr, Pinterest, Reddit, Linkedin, etc. Now see the list of holidays celebrated in December 2020.
December 2020 Holidays
| | |
| --- | --- |
| Date | Holiday |
| 25 December | Christmas Day |
| 26 December | Boxing Day |
| 28 December | Bank Holiday |
The Christmas festival is celebrated by countries such as Australia, United States, United Kingdom, Ireland, Canada, Germany, France, New Zealand, India, South Africa and many more. The December 2020 holiday calendar template is also available for download here. If you would like to receive a PDF of this image, please leave a comment below.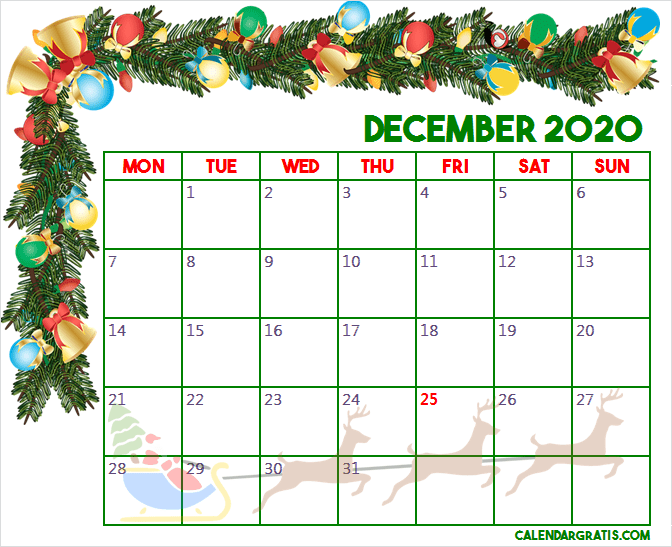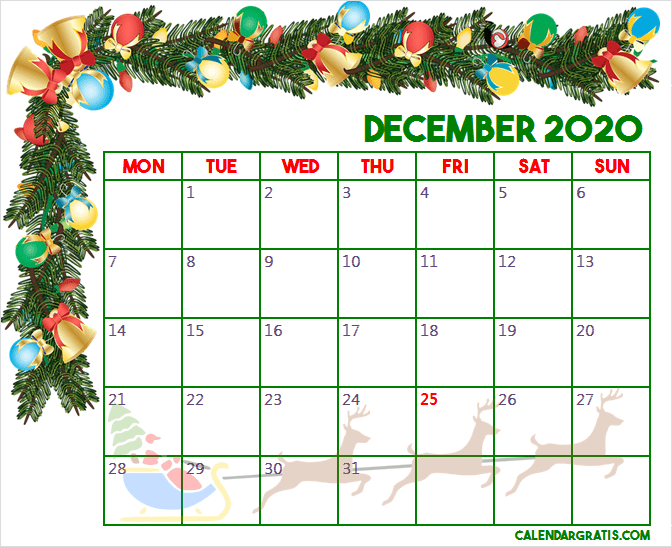 Month of December
Birthstone: Zircon
Birth Flower: Narcissus
Birth sign: Sagittarius
Note: This blog provides calendar templates for all months of the year. The collection of free calendars from January to December is now available on this website. Also, many other templates on this website can help you simplify your work. All template images are created by our team and we own the copyright for this. If you want to use our calendar on our website, please do not forget to mention the source of the image. We would like to share more templates with you till then, please stay with us. Thank you!